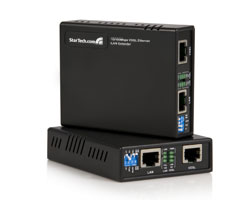 The 110VDSLEXT VDSL Ethernet extender kit lets you span a 10/100 network over extremely long distances (up to 1km) while still maintaining high-speed network connectivity, allowing you to run the connection over standard RJ45 cabling, existing RJ11 phone lines, or any other set of single pair wires. The VDSL (VDSL2) kit is simple to install and provides an out-of-the-box solution as both the Ethernet-VDSL extender and receiver units are included.
Industrial applications include controlling CNC machinery, polling bar code scanner data, administering process control equipment, and other harsh environment applications.
Monitor and control medical equipment, security keypads/card scanners, point of sale equipment and remote sensor data, and various other healthcare related network communications.
A perfect solution for a broad range of applications including connecting isolated user stations within the same building or between separate buildings, or overcoming infrastructure obstacles and distances (e.g. older stone/concrete architecture) where new wiring or wireless may be impossible. The VDSL Ethernet LAN Extender kit helps to eliminate expense by allowing video streaming and data to share the same telephone pair without interference.